Hello guys. Some of you might have noticed that I adjusted some of the settings on the Blog. First off : I finally managed to fix the comment section! Today, I am going to write a little review about my new Gucci Princetown slippers. Since they are all around the internet lately I thought that maybe some of you are interested in reading a review before considering to buy them. I have to admit that I tried to find a good report about them on the internet before I purchased mine, but it really wasn't that easy to find one. Haha, if you'd ask my friends all of them would tell you that I've been dreaming about those babies for quite awhile before finally getting a pair. Why? Well first… because they cost you a fortune of course. Furthermore, I consider them as "trend shoes". I usually don't like to invest in items that are not classics and therefore can't be worn for that long. I had such a crush on those shoes though that after thinking about them for very long I decided that it's time to (finally!) purchase a pair. At the beginning I couldn't decide between a classic red pair and the ones that I choose at the end. I mean mine have embroidery all over them and I thought that they might be hard to combine. I have to admit that I love the playful twist they have with the two motives. I do admit though that the crystals/stones are not everybody's type, but I love them anyway. I wouldn't change the model for any other one. However, you guys should definitely consider a couple of thinks before buying a pair :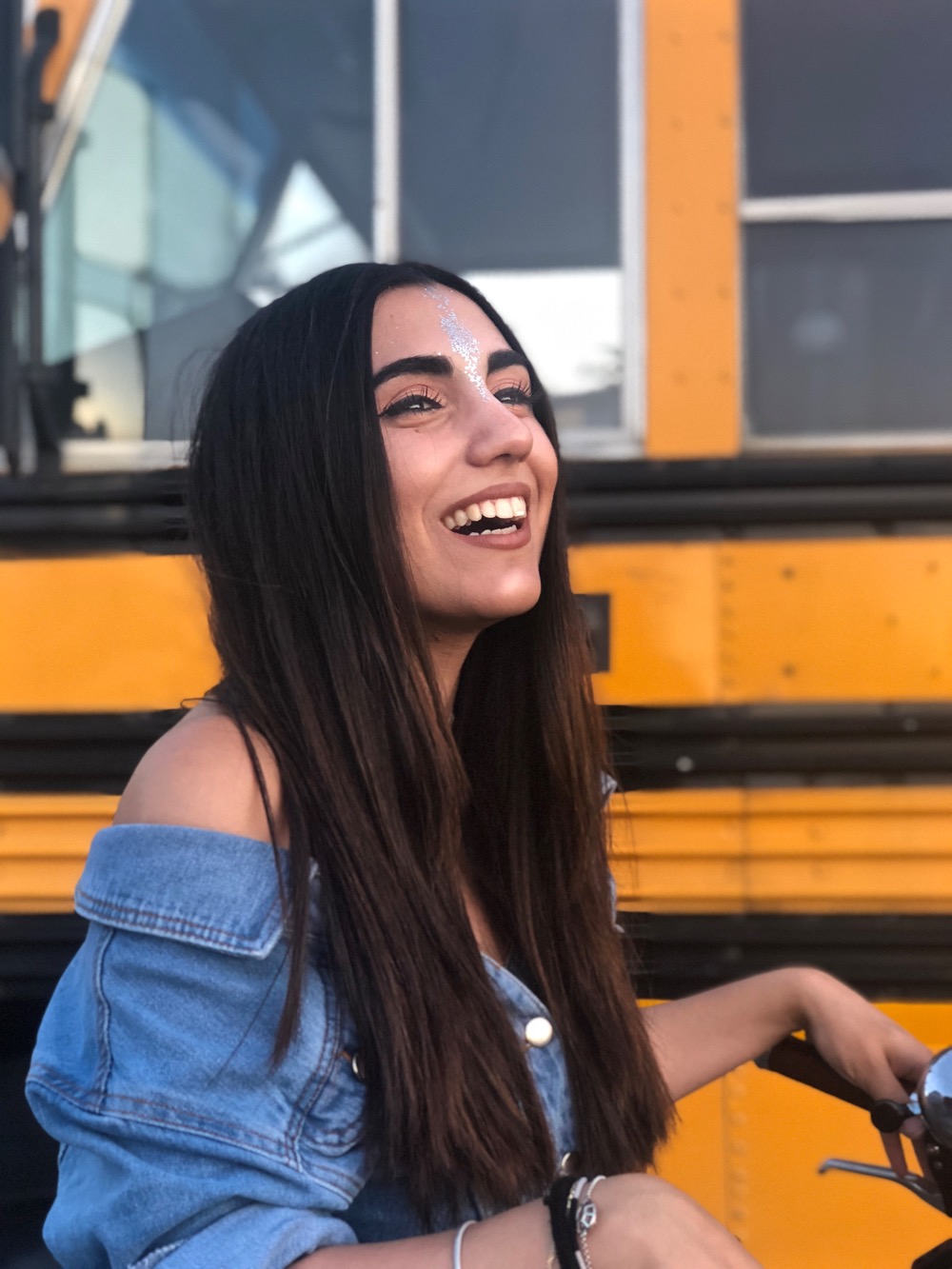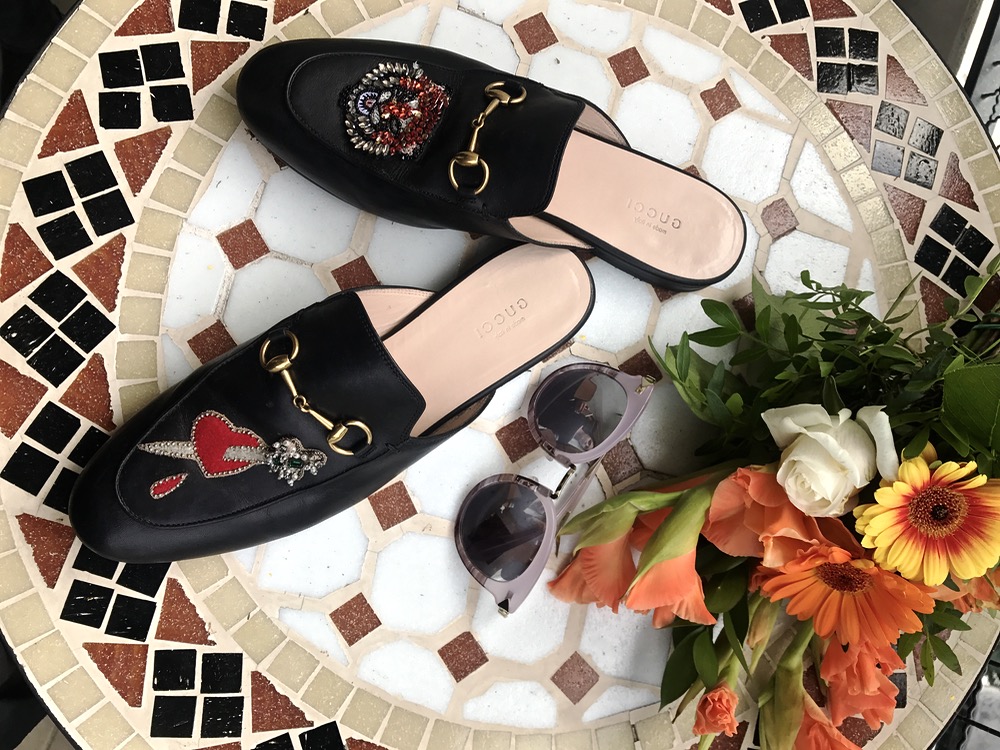 1.) As soon as you wear them (this happens on the first day already) they "change their form". What I mean is that you will see signs of use immediately. With my Chanel espadrilles for example it was a bit different. I wore them so many times and they still look impeccable. Also, after awhile you will see usage signs on the bottom tip of the shoe. I have to admit that that's not really cool if you consider how much those shoes actually cost (550+ Euro for the plain model). Haha, it was so challenging for me to wear them on the first two days as I literary felt how they started to look different right away. BUUUT … As soon as they start having those little signs (which are normal for genuine leather I guess) they stay the way they are. You will just get used to it and after a couple of days and after some while to won't even bother you anymore.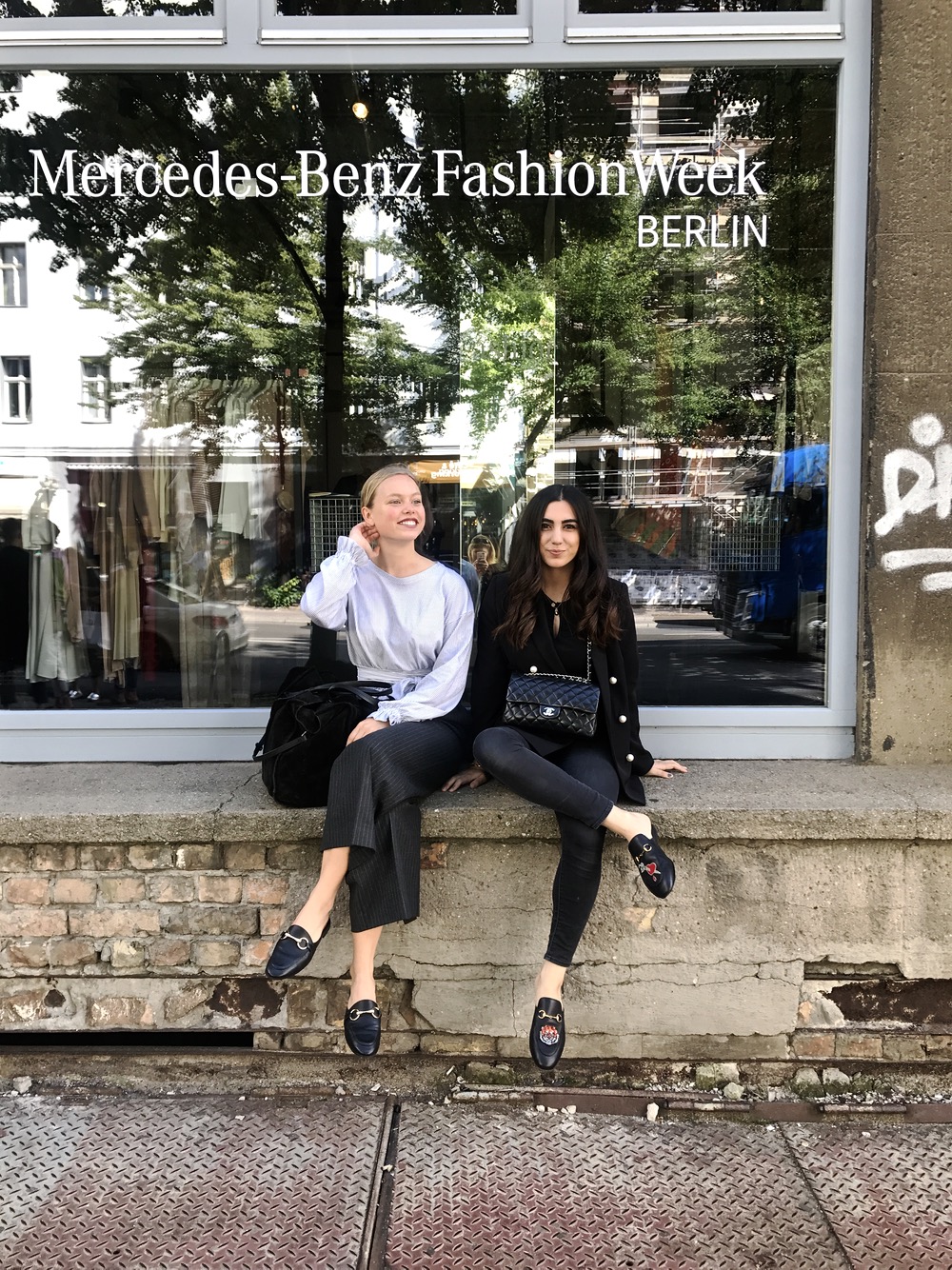 2.) Just like with any other pair of leather slippers you will need some time to adjust your feet to the "form of the shoe" - Well, or the other way around. What I mean is that the shoe will be quite uncomfortable for a week or two before you will start to love them completely. Haha, at this point I really love them and want to wear them all the time.
3.) Haha, but be prepared guys! They can make quite weird sounds. Especially if the weather is really warm. I mean they are still slippers after all - it makes sense that you might hear them while you walk, but still… that can be quite annoying. Little tip: Never go to the library with those shoes on! Haha, they annoy everybody and people will definitely turn around and look for that weird sound (again : only if it is too warm). You might have guessed -> that has actually happened to me. Where and when? Since I am in the middle of my exams I basically live in our university library. Haha, so this story ist that old (#firstworldproblems)
4.) Also running can be quite a challenge too! Especially when it is really cold outside. Haha, sometimes I am even afraid that I might slip out of them. Haha, I admit all of this sounds slightly negative, but it really is not. I mean they are SUPER comfortable! However, I am just warning you : They are great to walk around but they might be annoying on warm days. Also, the longer you will own them the better you will be able to run.
5.) My last point: You should definitely buy one size bigger. Please note that they have a "sharp front" which means that they are slightly smaller overall. I would usually go for a 38C, but I bought mine in a 39 (as I could only get this model on the internet) I wish that I would have bought them in a 40 though. They fit ,but the end of my ball is a bit over the edge which can be quite annoying.
This article sounds pretty negative, but I really don't mean it like that. Besides all those aspects the Princetown slippers are super comfortable and I literary LOVE them. They are easygoing and you can combine them with really anything.
They match business pants, dresses, jeans, etc. Furthermore, they are great for every day as you can slip in and out of them when needed. Moreover, they lift up every outfit. I really live and style my outfits with one Mantra : All you need is a nice bag and some cool shoes to lift up any outfit.
Ok, but then again... I am a huge fan of the current slipper "trend".
I guess it's a preference question -
it really depends on whether you love or hate this type of shoe. Haha, my mother for example thought that they were meant to be worn at home (and only at home! -> Reminds me a little bit of the current slides/adiletten trend).
I used to wear "high heels" every day and somehow just currently decided to change this bad habit and go for the more comfortable options. Tall girls might not understand that, but as a small woman you always feel like those 3-6 centimetres
make you appear so much more mature/tall.
So those slippers are perfect for my "now" more comfortable and flat shoe choices. So thumps up!
P.S not everybody is willing to buy a pair of Gucci's to enjoy the slipper trend. That's why I have searched for a couple of "nice" lookalikes